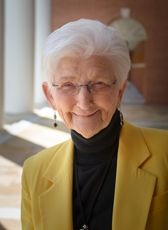 Senior Professor of Social Work
Office:

Dodd Building: Office 208


Office Phone:

(504) 282-4455 ext. 3207


Fax:

(504) 286-3639


Home Phone:

(985) 898-6346


E-Mail:

jbozeman@nobts.edu
---
Education
Ph.D., New Orleans Baptist Theological Seminary, 1984
B.A., University of Montevello, 1951
M.R.E., NOBTS, 1969
M.S.W., Tulane University, 1972
Additional studies at Tulane University and University of Alabama
Teaching Experience
New Orleans Baptist Theological Seminary, 1985-present Teaching and Research Specializations: Loss & Grief, Marriage & Family, Communication, Aids Ministry, Divorce Issues, Ministry
Teaching Specializations
Loss & Grief
Marriage & Family
Communication
Aids Ministry
Divorce Issues
Ministry
Foster Care
Ministry Experience
Family Life Coordinator, First Baptist Church, Chalmette, LA 1980-83
Interim Minister of Education, Parkview Baptist Church, Alexandria, LA 1984-85
Pastor's Wife
Adult Bible Study Teacher, First Baptist Church, Covington, LA
Women's Ministry Conference Leader
Publications
Articles
"What Can I Do When People Experience Mental Illness?", Accent;
"What People Need From the Church", Theological Educator;
"Support Groups For Parents of Persons With Aids", Theological Educator
"Journey Through Grief," Iuwess, Crisis & Loss, 1-99, Vol 7, #1
"Children in Crisis: Children and Divorce," Ministry with Kids, 2006.
Devotions for Open Windows, October 24-28, 2011.
Books
Interpersonal Relationships for Ministers with Dr. Argile Smith, October 2004
Presentations
Texas Childhood Education Conference, Waco,TX, Baylor University-July '96
Texas Baptist Childhood Education Conference, Houston, TX 1998
Georgia Childhood Education Conference, Columbus, GA 1998
Texas Baptist Childhood Education Conference, First Baptist Church, Houston, Keynote Speaker, April 1998
Texas Baptist Childhood Education Conference, Baylor University, Conference Leader, May 1998
Grief Conference, First Baptist Church, St. Francisville, LA, August 2008
Speaker, Senior Adult Lessons Learned From Loss, First Baptist Church Covington, LA, August 2008
Helping Children Experiencing Grief from Death or Divorce, First Baptist Church Simpsonville, South Carolina, September 2008
Grief Conference, New Zion Baptist Church Covington, LA, September 2008
Senior Adult Revival First Baptist Church, Ethel, LA, Speaker, October 2008
Preschool Workers First Baptist Church Covington, LA, Speaker, October 2008
Women's Retreat First Pilgrim Baptist Church New Orleans, LA, November 2008
Helping Children Cope with Grief and Loss" Capital Area Human Services Districts Social Workers, Baton Rouge, LA, December 2008
NOBTS and Tall Timbers Baptist Convention Center "Helping Children Cope with the Crisis of Death and Divorce," New Orleans, LA, February 2009
National Association of Social Workers, LA "Helping Children Cope with Loss" Houma, LA, February 2009
National Association of Child Care Professionals, "Coping with Difficult People," Orlando, FL, April 2009
Gentilly Baptist Church, "Coping with Loss," New Orleans LA, May 009
National Association of Social Workers, LA, "Helping Children Cope with Divorce and Death," Baton Rouge, LA, June 2009
"Role of Grief in Foster Care Services," Baton Rouge, LA, April and May 2011
"Role of Grief in Foster Care Services," Child Welfare Workers, Alexandria, LA, June 2011.
National Association of Social Workers, "Grief and Loss in Foster Care" Regional Continuing Education, Houma, LA, February 2012.
First Baptist Church Covington, "Understanding Grief," Covington, LA, February 2012
National Association of Social Workers, "All Stressed Out and Everywhere to Go." Louisiana Annual Conference, Baton Rouge, LA, March 2012.
National Association of Social Workers Continuing Education, Louisiana Annual Conference, "Ethics" Baton Rouge, LA, March 2012
"All Stressed Out and Everywhere to Go." Break out session at Senior Fest 2012, New Orleans Baptist Theological Seminary, March 2012.
International Association for Death Educators and Counselors, "Exploring the Impact of Grief in Foster Care" Atlanta, GA, March 2012.
National Association of Social Workers, "Grief Related to Foster Care." Regional Continuing Education, Lafayette, LA, April 2012.
National Association of Social Workers, Regional Continuing Education," Grief Related to Foster Care." New Orleans, LA, May 2012
Planning meeting with the Director, Dr. Rheiner and Coordinator of the School of Social Work at USM, Hattiesburg, MS, August 20122