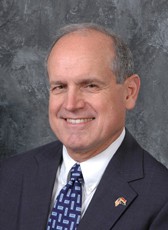 Dean of Graduate Studies
Professor of Theology and Islamic Studies
Associate Director of the Institute for Christian Apologetics
Office:

Frost 101


Office Phone:

(504) 282-4455, ext. 3227


Fax:




E-Mail:

medens@nobts.edu
---
Education
Doctor of Philosophy, New Orleans Baptist Theological Seminary, 1993
Historical/Theological Studies, Christian Apologetics (sub area: Towards Islam) Dissertation: "An Evangelical Christian Response to Concepts of Humanity Found in Selected Islamic Writings"
Advanced Studies Arabic Language & Culture at American University, Cairo
M.Div. New Orleans Baptist Theological Seminary, 1976
Bachelor of Arts at East Texas Baptist University, 1973
Teaching Experience
September – 2016: Facilitator for "Co-Starters," a small business startup training sponsored by Launch NOLA, in New Orleans LA
August 2016: Breakout speaker on Muslim Evangelism Tools in Reaching the Nations coming to North America Conference Brentwood BC, Brentwood, TN
July 2016 Taught "Cross-Cultural Church Planting to Missionary Interns, Odessa Baptist Seminary, Ukraine
April 2016: Spoke about tools for Muslim evangelism, at the Greater Huntington Baptist Association, Huntington, VA
February 2016: "Muslims Need Jesus," Guest speaker for the Crescent City Church Planting Among Muslims Conference
January – March 2016: Facilitator for "Co-Starters," a small business startup training sponsored by Launch NOLA, in New Orleans LA
September – November 2015: Facilitator for "Co-Starters," a small business startup training sponsored by Launch NOLA, in New Orleans LA
June 2015: teaching "Church Planting in Muslim Context" as Guest Instructor, Odessa Theological Seminary, Odessa, Ukraine
April 2015: Guest Teacher "Four Critical Islamic Issues for the Church" at Jacob's Well Baptist Church, Pass Christian, Mississippi
February 2015: Guest Speaker at Crescent City Church Planting Among Muslims in New Orleans and North America conference
October 2014-November 2014: teaching Islamic Revival Movements at Jefferson Baptist Church, Baton Rouge, Louisiana
November 2013-December 2013: teaching The Bible and Doctrine at Jefferson Baptist Church, Baton Rouge, Louisiana
July 2013: teaching "Is Allah the God of the Bible?" and "What Does Islam Say About Jesus, the Cross, and the Gospel?" as Guest Lecturer at St. Andrew Baptist Church, Panama City, Florida
June 2013: teaching "The Principles of Cultural Adaptation" and "Church Planting in Muslim Context" as Guest Instructor, Odessa Theological Seminary, Odessa, Ukraine
October 2012-November 2012: teaching Middle Eastern Peoples and Bible End Times at Jefferson Baptist Church, Baton Rouge, Louisiana
October 2011-December 2011: teaching Systematic Theology at Jefferson Baptist Church, Baton Rouge, Louisiana
September 2011: teaching at Manado Seminary in Manado, Indonesia
October 2010-December 2010: teaching Intro to Biblical Studies at Jefferson Baptist Church, Baton Rouge, Louisiana
2004-2006 Mentor to a Multi-National Multi-Agency Team in Southwest Asia on Muslim outreach and Church planting
January 2004 Southwestern Baptist Theological Seminary -J Term- Starting and Multiplying Churches-D.Min. Seminar for Korean students
1997-2000 Strategy Associate, Northern Africa and the Middle East, IMB
1993-1996 International Institute of Biblical Studies- Middle East and North Africa region, IMB
1994-1995 Coalition of Christian Colleges and Universities- Cairo studies program Islamic Worldview and Outreach to Muslims Lectures
1991-1992 Graduate and Teaching Assistant to Dr. Terry Young, New Orleans Baptist Theological Seminary
1990-1991 Cairo Evangelism Project- Bi-weekly Teaching and Mentoring of Network Leaders of House Churches throughout Cairo
1990 "A Christian Apologetic to Islam" Designing and Creating Video Teaching series
1987 Theology; New Testament & others at Arab Baptist Theological Seminary
1978-1980 Louisiana State Police Academy- Stress Management
1977-1978 Seminary Extension Center, Livingston, LA- Theology; Biblical Studies
1973 Union Seminary, New Orleans, LA.- Evangelism; New Testament
Teaching Specializations
Christian Apologetics especially toward Muslims
Islamic Studies,(Understanding and Witnessing to Muslims)
Biblical and Christian Theology,
Small Business Start-up
Ministry Experience
May 2015-Sept 2016: Interim Pastor, First Baptist Church, Folsom, LA
November 2014 - April 2015: Interim Pastor, First Baptist Church, Wiggins, Mississippi
July 2012 - November 2013: Interim Pastor, Hebron Baptist Church, Bush, Louisiana
October 2009- February 2011: Interim Pastor, Hillcrest Baptist Church, Frankinton, Louisiana, Washington Association
October 2007-November 2008: Interim Pastor, Old Zion Hill Baptist Church, Tickfaw, Louisiana. Latangi Association
2007 Retirement from IMB after 26+ years working in the Middle East
1973-1980 Pastor at New Hope Baptist Church in Independence, LA.
1976-1979 Coordinator of Chaplains at headquarters, LA State Police in Baton Rouge, LA.
1970-1973 Pastor at Tabernacle Baptist Church in Elkhart, TX.
Publications
Baptist Press Articles
Analysis: Egypt, Coptic Christians and Turmoil (August 2013) http://www.baptistpress.com/41000/analysis-Egypt-Coptic-Christians-and-turmoil
"Are Radical Governments on the Horizon?" (March 2011) http://www.bpnews.net/BPnews.asp?ID=34845
"Are Christian Minorities at Greater Risk as a Result of the Uprisings in the Middle East?" (March 2011) http://bpnews.net/BPnews.asp?ID=34899
"What are the Uprisings all about?" (March 2011) http://www.bpnews.net/bpnews.asp?id=34948&ref=BPNews-RSSFeed0330
Articles
"Islam" in the Worldview Study Bible - Broadman & Holman TBA
"Learning to Share with Muslims" coauthored with Mike Shipman in Next Step Resources International Mission Board, 2013
Watchman Fellowship Profile on Shi'a Islam, June 2012
"Church and Agency Co-Laboring" coauthored with Jerry Rankin, in Discovering the Mission of God: Best Missional Practices for the 21st Century. Downers Grove, IL: IVP Academic, 2012.
"Questioning Islam's View of Special Revelation in the Qu'ran" in Come Let Us Reason, ed. Paul Copan. Nashville, TN: B&H Publishing Group, 2011.
"Pitfalls in Witnessing to Muslims" SBCToday blog post, September 28, 2011. sbctoday.com/category/islam
2009 "Ethical Implications of Islamic Concepts of God" Evangelical Theological Society Paper, presented at the annual meeting in New Orleans, La
"Addressing Islamic Teaching About Christianity," in The Journal for Baptist Theology and Ministry: Baptists on Mission. Ed. Charles S. Kelley, et al. 5.1, Spring 2008 (143-150) www.baptistcenter.com/BaptistsOnMission.pdf
Training and Lectures
2004-2006 Business processes for Change and Leadership Modules for Southwestern Asia Government Ministers and Private sector businesses (2 week training cycles)
2003 Jesus for Muslims Annual Conference- Lecture on Mobilizing the Church
2003 Biola University for North American Mission Board- Mobilizing to start Muslim Background Believer (MMB) Churches
2003 Save the Children Global Office- Arab Muslim Worldview Lecture
2002 "Leading in Changing Times" series of training Lectures for Vice Ministers of the Interim Afghan government as part the Memphis Afghan Summit
Lecture and Conference Speaker at the Following Universities 1986-2004
East Texas Baptist University
Grand Canyon University
Union University at Golden Gate Seminary
Columbia International University
Southwest Baptist University
Ouachita Baptist University
Virginia Commonwealth University
Missouri Baptist University
1997-2004 Islamic Worldview and Outreach Lectures in Various Churches
Awards
Ola Farmer Lenaz
J. Wesley Smith Achievement Award from East Texas Baptist University October 2012