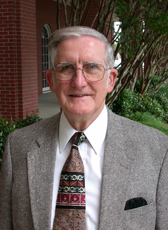 Senior Professor of Church History
Office:

Dodd Building: Office 211


Office Phone:

504-282-4455 ext. 3258


Fax:

504-286-3639


E-Mail:

dholcomb@nobts.edu
---
Education
B. A. Mississippi College - 1954; Major: Bible, Minors: English and History
B. A. University of Southern Mississippi - 1957; Major: American and European History
B. D. New Orleans Baptist Theological Seminary - 1959; Concentration: Church History
Th. M. The Southern Baptist Theological Seminary - 1963; Major: Church History. Thesis: "The Theology of Henry B. Smith (1815-1877): With Special Reference to Contemporary Influences"
Th. D. The Southern Baptist Theological Seminary - 1969; Major: Church History, Minor: Philosophy of Religion. Doctoral Dissertation: "The New Church History: The Quest of a Dialogic Approach in American Protestantism Since 1945"
Notre Dame Seminary (Archdiocese of New Orleans) - 1985; Areas of Study: Roman Catholic Spirituality (Warren Dicharry) and Theological Method (Terry Tekippe)
Yale University - Research Fellow - 1986; Areas of Study: Medieval Spirituality (Julia Gatta), The Philosophy of Symbol and Myth (Louis Dupre), The Historian and the Believer (John Stroup), Popular Religion in Europe and America (Jon Butler)
Oxford University - Visiting Scholar - 1992; Areas of Study: Philosophy of Religion (Richard Swinburne, University College), Protestant Reformation (Alistair McGrath, Wycliffe Hall), Origen (Timothy Ware, Pembroke), Sociology of Religion (Brian Wilson, All Souls), Modern Theology (Keith Ward, University College)
Vanderbilt University Divinity School - Visiting Scholar - 1993; Areas of Study: The Radical Reformation (Richard Harrison), History of Modern Christianity (Dale Johnson), Recent and Contemporary European Philosophy of Religion (Edward Farley)
Teaching Experience
Instructor in Church History, The Southern Baptist Theological Seminary, 1965-67
Assistant Professor of Religion, Oklahoma Baptist University, 1969-74
Associate Professor of Religion, Oklahoma Baptist University, 1974-1979
Associate Professor of Church History, New Orleans Baptist Theological Seminary, 1979-1989
Professor of Church History, New Orleans Baptist Theological Seminary, 1989-1994
John T. Westbrook Professor of Church History, Chairman, Division of Theological and Historical Studies, New Orleans Baptist Theological Seminary, 1994-Present
Adjunct Professor - World History, NOBTS College of Undergraduate Studies, 1995-Present
Adjunct Professor - History, Philosophy, William Carey College (New Orleans campus), 1988-1991
Teaching Specializations
Early Christianity
The Radical Reformation
Christian Spirituality
Theory and Method of Church History
Ministry Experience
Extensive experience as pastor, interim pastor, supply minister, revival speaker, conference and retreat leader.
Preached/taught in churches in AL, AZ, FL, KY, LA, MS, MO, OK, SC, TX, VA.
Conferences and Retreats (Windemere, MO; Gulfshore, MS; Falls Creek, OK; Eagle Eyrie, VA; Ridgecrest, NC; Glorieta, NM)
Publications
Books
Costly Commitment - Convention Press 1978
Our Heritage of Faith - Convention Press 1983
Compiler and editor, Readings in Baptist History. Privately printed, 1986.
Contributed chapter, "The Doctrine of Salvation and the Support of Missions," Morris Ashcraft, ed., Mission Unlimited: Biblical and Doctrinal Foundation of Support of Missions. Nashville, TN: Stewardship Commission of the SBC, 1976, pp. 259- 291.
Books in preparation
Disturbing Grace
No Escape: What to Do When You Have to Take Church History
The Recovery of Excellence
C. Penrose St. Amant: Celebration of a Legacy (6 vols.)
Lectureships
Thomas F. Staley Lecturer, William Carey College, Hattiesburg, MS, April 16-18, 1990; Theme: The Baptist Heritage of Freedom; Lectures: "The Travail of Religious Freedom"; "Advocates of Freedom"; "Religious Freedom: A Baptist Rationale"
Herschel H. and Frances J. Hobbs Lecturer, Oklahoma Baptist University, Shawnee, OK, October 29, 1997; Lecture: "The Classics of Christian Devotion: Wellsprings of Southern Baptist Renewal"
The Eleanor and Nathaniel P. Phillips, Sr. Memorial Lecturer, Tulane University, New Orleans, LA, April 16, 1998; Lecture: "Images of God in Contemporary Literature"
Audiotaped Presentations
"Baptists and Calvinism: Facing the Issues," Continuing Education Conference (NOBTS), January 22, 1996
The Protestant Reformation of the Sixteenth Century
- Life and Theology of John Calvin (1509-1564)
- The Development of Calvinism
- Calvinism in Baptist Experience: Modifications and Challenges
"The Holy Spirit" - Bible/Doctrinal Study, Home Missions Week, Ridgecrest Conference Center (NC), August 13-18, 1978
- The Promise of the Spirit
- The Presence of the Spirit
- The Spirit and the Word (Two Parts)
- The Spirit and the Incarnate Word
- The Spirit and Scripture
- The Spirit and the World
- Life in the Spirit
Chapel Sermons (NOBTS)
- When the Word Becomes Flesh
- Strong at the Broken Places
- On Being Finely Aware and Richly Responsible
- The Tremble Factor
- The Unwelcomed Christ
- A Song in the Night
- Life in the Son
- Listen and Obey
- What Crucified Jesus?
- The Ministry of Waiting
- The Burning Bush and Our Task
- Longing for Wings
- Beyond Prison Thinking
- The Importance of Little Things
- The Ministry of Intercession
Professional Organizations
Omicron Delta Kappa
American Academy of Religion
American Society of Church History
Conference on Faith and History
Southern Baptist Historical Society
College Theology Society
Teaching Assignments
NOBTS College of Undergraduate Studies
- World History I and II
NOBTS Graduate Program
- Baptist History
- History of Christianity: Early and Medieval
- History of Christianity: Reformation and Modern
- History of Early Christianity
- Christian Devotional Classics
- Renaissance and Reformation
- The Radical Reformation
- History of Modern Christianity
- Historical Theology
- Philosophy of Religion
Doctoral Seminars (Ph.D)
- Studies in Early Christianity
- The Continental Reformation
- Theory and Method of Church History
Doctoral Seminars (D.Min)
- Spiritual Formation of the Minister