on
Thursday, December 15, 2107
Photos by Chris Granger/The Times-Picayune
Life with three sets of twins – all preschoolers – is full of surprises for graduating NOBTS/Leavell College student Josh Harris and wife LaRaye. As the couple waits for God to show them the next step after graduation, they continue to trust in Him.
Josh graduates Dec. 16 with an associate degree in Christian ministry.  
"I know God's promises and I just have to hold fast to that," Josh said. "So, it doesn't matter what He's going to do or when He's going to do it, He will do it."
The couple moved from Shreveport two years ago with fraternal twins Jonah and Aniston, now almost four-years-old, and identical twin girls Magnolia and Madeline, age two. Soon afterwards, a third pregnancy blessed the couple with identical twin boys, Drake and Judah.
The twin boys turned one-year-old Dec. 9, one week before graduation.
Moving to New Orleans for school meant leaving family support behind, but was a move the couple considered permanent. Josh intended to stay and pursue the bachelor, master and Ph.D. degrees and leaving NOBTS with only an associate's degree meant letting go of a dream.
"I was excited about pursuing several degrees," Josh said. "But I feel like I've done what God wanted me to do."
The trials of work schedules, class, family, and the illness Josh lives with made the couple's time at NOBTS a season of life he described as "terrifically hard."
"Having three sets of twins is challenging," Josh admitted. "But that's where I'm most close to God is in the challenge. I love the challenge. I love the opportunity I've been given to be a part of something so unique and so rich."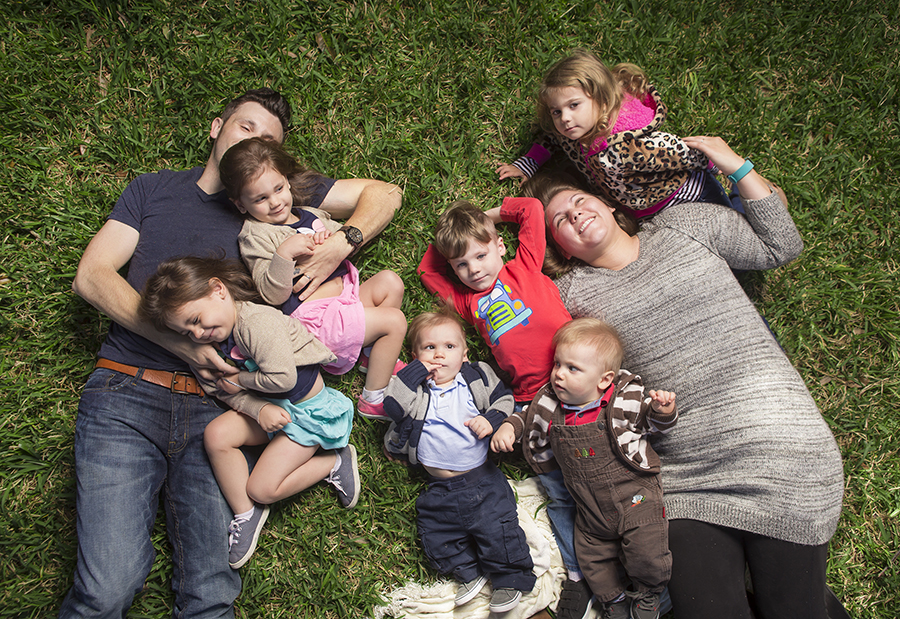 A DAY IN THE LIFE
People stop and stare as the couple loads the children into their Honda Odyssey van, a procedure that takes about 15 minutes. Making room for a third set of car seats when the twin boys came along took "mathematical precision," Josh said, adding "I did a lot of measuring."
Any public outing takes longer than expected as people approach to ask questions or make comments.
"If you can think of the comment, we've heard it," Josh said.
Each day is different, LaRaye explained, and begins the moment she wakes up. "The kids come in, 'Mommie, it's waking-up time. Mommie, the sun is up. Mommie," LaRaye explained.
In her blog titled "God is on the Move," LaRaye speaks frankly about the daily challenges of motherhood and the chores that don't get done.
"I have to choose what's most important to me during this temporary season of my life," LaRaye blogged. "I choose my kids. Discipling my children is my priority right now."
The addition of a third set of twins brought other changes as well. After the biggest box of diapers available in stores disappeared in two weeks, the couple opted for cloth, even learning online how to make diapers out of old tee-shirts.
"We are thoroughly trained in the old-fashioned way of diapering," Josh quipped. "Thoroughly."
Thomas Strong, dean of Leavell College and the couple's pastor, said members of Metairie Baptist Church, where they are members, provided prayer support and meal assistance when the twin boys were born and childcare during doctor appointments.
"Most of us admit the challenge of getting to church on Sunday morning, but we have watched as Josh and LaRaye have consistently come to worship with their three sets of twins in their arms," Strong said.
While twins run in the family, a third set was unexpected. LaRaye's fraternal twin brother miscarried before birth; Josh's father is a fraternal twin.
Dr. Rebecca Perret, the New Orleans obstetrician who delivered the twin boys, noted that delivering identical twins after fraternal is rare. Rarer still is three sets of twins from three pregnancies, she said.
Perret praised the parents. "They are a lovely couple. If anyone is up to the task, they are."
Each child's personality is different, though the children stick close to their twin, LaRaye explained. The three-year-olds are "talkative" with Aniston wanting "to herd the others," LaRaye said, adding that Magnolia is quiet while Madeline is "more spicy."
"They love each other so much," LaRaye said. "They fight, but hug each other to make up on their own."
'COUNT YOUR MIRACLES'
After Josh was spared injury in a car accident four years ago, LaRaye wrote a blog titled "Count your Miracles." Through writing and blogging, the couple finds expression for their journey though both joy and also trial, including Josh living with bipolar disorder.  
LaRaye someday hopes to write a book. Josh finds solace in poetry.  
One of Josh's poems includes the line, "I love the sound of little words." In another, he wrote, "I just wish that time stood still and sat upon my windowsill, where always I could take it down and spend it with my kids."
Grateful for each other and their children, the couple writes often of God's blessing and a sense that God is working in their lives. 
"God the Father created me and my children and my circumstances," LaRaye blogged. "But, the fruit that God can bear through us in our obedience will be worth every mile marker set between us and any obstacles we face."
Someday, God will work out their struggles for good in their children's lives, Josh blogged. In his family, Josh finds strength.
"When I'm having a hard day, when things are not very clear, I get to come home and experience a big family. It's very humbling," Josh said. "God has certainly blessed us and we owe it all to Him."