on
Monday, November 12, 2018
ANNOUNCEMENTS
'STORY OF THE NEW TESTAMENT' FEATURED AT N.T. CENTER ANNIVERSARY CONFERENCE - TODAY, NOV. 12
"The Story of the New Testament from Papyrus to Print" is the focus of The H. Milton Haggard Center for New Testament Textual Stuides conference, Monday, Nov. 12, 1 p.m. to 6 p.m., at the Hardin Student Center, room 219.  The event is FREE and open to the public. The event marks the Center's 20th anniversary. The schedule is as follows:
1 p.m. to 1:45 p.m.        Ancient Papyri and New Testament Studies - with Dr. Michael Theophilos, papyrologist from Australia. (Discussion 1:45 p.m. to 2 p.m.)
Break
2:15 - 3 p.m.                Formative Times: Books, marginalia and book collections from the 2nd to the 4th centuries - with Dr. Ulrich Schmid, textual scholar from Germany
3:30 - 4:15 p.m.           The Printed Text Age: Early Printed Editions & Translations - with Dr. Jan Krans, textual scholar from the Netherlands  (Discussion:  4:15 p.m. to 4:30 p.m.)
Break
4:40 p.m -5:15 p.m.    Modern Translations and Early Manuscripts: From Papyrus to Print - with Dr. Bill Warren, NOBTS, director of the HCNTTS    (Discussion: 5:15 p.m. - 5:25 p.m.)
5:30 p.m. to 6 p.m.       Panel Discussion 
NOT TOO LATE TO VOLUNTEER FOR OPERATION CHRISTMAS CHILD, NOV. 10-19
Volunteer this week with Operation Christmas Child Collection Week, a popular and vital ministry that touches children around the world. NOBTS is the central drop off location for all of metro New Orleans. Here is the collection schedule for NOBTS:
Mon, Nov. 12: 3 p.m. - 6 p.m.
Tue, Nov. 13: 3 p.m. - 6 p.m.
Wed, Nov. 14: 3 p.m. - 6 p.m.
Thu, Nov. 15: 10 a.m. - 3 p.m.
Fri, Nov. 16: 10 a.m- 6 p.m.
Sat, Nov. 17: 10 a.m - 3 p.m.
Sun, Nov. 18: 2 p.m. - 4 p.m.
Mon, Nov. 19: 9 a.m - 6 p.m.
We are in need of people each day. If you can volunteer for a two-hour block, that would be wonderful. If you'd like to volunteer, please email Dr. Jeffrey Farmer at jfarmer@nobts.edu with the date and time you're able to help. 
SOCIAL WORK CLUB MINISTRY OPPORTUNITY BENEFITTING BETHEL FAMILY HOUSE 
The Social Work Club is collecting toiletries for Bethel Family House until December 7th. Stop by our table in the HSC on Wednesday, 11/14, and Thursday, 11/15, from 12-2 to drop off donations and learn more about this ministry. Can't make it to the table? There will be a collections box in the Dean of Students office next week. Please share with your classmates, professors, and churches so we can bless them with these needed items before Christmas. Approved items include soap, toothpaste, shampoo, razors, feminine products, deodorant, tissue, and WalMart gift cards. Email socialwork@nobts.edu with any questions. 
Ministry Opportunities in the Pacific Northwest, Nov. 29
Consider ministering in one of the most beautiful, yet least-churched regions of North America, the Pacific Northwest.  Gary Irby, State Director of Missions/Church Planting Director for the Northwest Baptist Convention will be on the NOTBS campus on Thursday, November 29.
Take advantage of one or both of the following opportunities:
Free Informational Breakfast at the NOTBS Café at 7:15 a.m., November 29.  Learn about the Northwest and ministry opportunities there.
Interviews for ministry opportunities in Washington, Oregon, Idaho, British Columbia, and nearby states.  Interviews are being conducted for potential church planters, pastors, staff members, and collegiate ministers. 
To make a breakfast reservation or to request an interview time, please contact Natalie Hammond at natalie@nwplanting.com.
To learn more about the Northwest, go online:   
             www.nwplanting.com  www.nwbaptist.org
REGISTRATION TIPS FOR DEFEND, JAN. 7-11, 2019; TUITION CAP ELIGIBLE
Courses taken at DEFEND, Jan. 7-11, 2019, will fall under the Spring semester Tuition Cap. To earn course credit, students attend sessions of their choosing during DEFEND, then complete course assignments throughout the semester. Follow these tips to register for DEFEND under the Tuition Cap:
Defend classes are now open for registration. Students can find these courses in SelfServe by searching:
Academic Year: 2019
Term: Spring 3 Term
Session: January 1 Workshop
REGISTRATION FOR SPRING 2019 SEMESTER NOW OPEN
Registration for the Spring 2019 semester is open. Register today at Self-Serve. 
CHURCH CHRISTMAS MARKET BENEFITS IMB, DEC. 1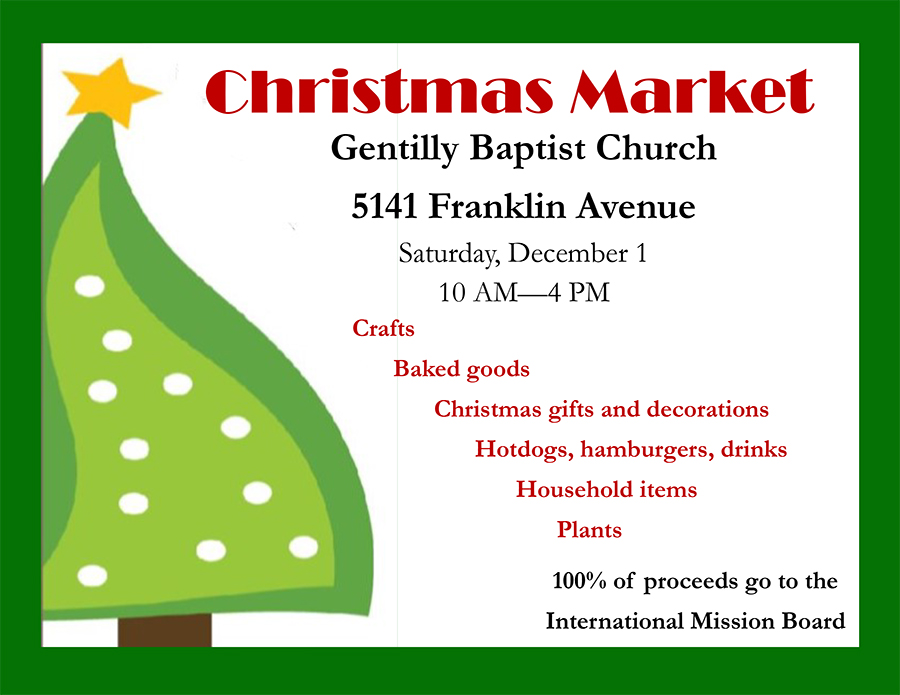 The Christmas Market at Gentilly Baptist Church, 5141 Franklin Ave., returns Saturday, Dec. 1, 10 a.m. to 4 p.m. Featured items for sale include plants, baked goods, Christmas decorations, hamburgers and hot dogs, household items, and more. All proceeds go to the International Mission Board. 
BOLIVIA, FALL BREAK 2019
A team of six from NOBTS served in Santa Cruz, Bolivia over Fall Break through a mission trip sponsored by the Providence Cultural Institute. Team members provided pastors' training at a small village and at a local Baptist seminary. Those interested in serving in Bolivia in October 2019 may contact
info@providenceculturalinstitute.com
. 
Pray, Set, Geaux - SAVE THE DATE
Providence Cultural Institute invites those who are interested in mission opportunities for NOBTS students to Pray, Set, Geaux, 5:30-6:30 p.m., in the PLC Conference Room (Second floor of Lifesongs building).  See dates below. Testimonies and reports from recent trips will be presented and information about upcoming trips will be highlighted. 
SAVE THE DATE for the following events: 
Nov. 1, 2018:   Bolivia and Brazil reports, and upcoming trips
Jan. 31, 2019:    Upcoming mission trips
April 4, 2019:    Spring Break reports and Potluck
SAVE THE DATE: 2018 Christian Counseling Conference, Friday, Nov. 2.
"The Caregiver Confronting Abuse" is the theme for the Nov. 2 Leeke Magee Christian Counseling Conference. Sessions include Ethical Issues in Counseling: Christian Counseling in a Secular World; Addressing the Spiritual Needs of Adult Survivors of Child Abuse; Frameworks and Tools for Treating Survivors of Abuse; Forgiving the Unforgivable, and others. Visit www.nobts.edu/counselingconference for information. 
WOMEN'S EVENTS
NOBTS Women! 
DECK THE HALLS!
NOBTS Women's Fellowship and Ladies Night at the REC present, DECK THE HALLS! Join us Monday, November 26 from 7-8:30pm in the Creole Room for a fun night of ornament decorating and fellowship! All NOBTS Women are invited! Childcare is available by reservation. To reserve a spot, email childcare@nobts.edu by 11/19.
Christmas Tour of Homes
It's beginning to look a lot like Christmas, so it's time to make plans to attend the upcoming campus Christmas Tour of Homes! On Thursday, December 6 at 6:00 pm, we'll gather at Martin Chapel for a short program and group assignments before being sent out to view faculty and student homes all decked out for Christmas. We'll finish the night about 8:30pm at the President's Home with yummy holiday treats. Childcare is available by reservation. To reserve a spot, email childcare@nobts.edu by 11/29.
Brown Bag Bible Study!
All interested NOBTS Women are invited to the Cafeteria Balcony Room for the Brown Bag Bible Study! Typically, ladies either bring lunch from home or get a plate from the food line before joining around tables for encouraging conversation and study. This fall we are studying the 40 min. Kay Arthur study, The Power of Knowing God. Books are available for $6. For more info, contact Dr. Emily at nobtswomen@nobts.edu.
Have you found us online?
Check us out on Instagram @nobtswomen or Facebook, NOBTS Student Wives Fellowship and NOBTS QUEST. Join soon to keep up with what's going on! Event updates are posted periodically to help get the word out! For an archive of the women's programs blog, click HERE.
Emergency Text Messaging Service
Sign up for the NOBTS Emergency Text Messaging Service today. Click HERE. Choose one or all of the groups to receive texts related to emergency situations that affect our NOBTS campuses and families. Main New Orleans Campus, New Orleans Campus Residents, Louisiana & Mississippi Extension Centers; Florida Extension Centers; and Georgia & Alabama Extension
John T. Christian Library Information
Operating Hours for the Academic Year:
Monday-Thursday    7:30 a.m. to 10 p.m.; Friday 7:30 a.m. to 7 p.m.
Saturday   10 a.m. to 3 p.m.
Sunday CLOSED
Facilities
NOBTS Facilities is where you go for all building and maintenance issues. For safety tips, a link to submit work orders, and the latest info on campus projects, follow us on Facebook :  www.facebook.com/NOBTSFacilities Here you'll also find helpful how-to videos.
Need Technical Assistance? Contact ITC Today
Email Selfserve@nobts.edu for technical questions/support requests with the Selfserve.nobts.edu site (Access to online registration, financial account, online transcript, etc.).
Email BlackboardHelpDesk@nobts.edu for technical questions/support requests with the NOBTS Blackboard Learning Management System NOBTS.Blackboard.com.
Email ITCSupport@nobts.edu for general technical questions/support requests; or visit www.NOBTS.edu/itc/ for general NOBTS technical help information; or call 504.816.8180 for assistance.
SWAP Shop Hours
The SWAP Shop (Surplus With A Purpose) provides an economical means by which the seminary community may exchange or secure quality clothing or small household items for personal use. Contributions of new and gently-used clothes, furniture, books, household goods, gifts and toys are welcome. The SWAP Shop is a volunteer organization open five days a week, with hours based on the availability of volunteers.

The SWAP Shop is open Monday, 5 p.m. - 7 p.m.; Tuesday, 4 p.m. - 6 p.m.; Wednesday, optional; Thursday, 4 p.m. - 6 p.m.; Friday and Saturday, as volunteers are available.
Join the NOBTS Swap Shop Facebook page at Facebook.com/NOBTS SWAP shop. Times are listed and closures will be announced there. The Swap Shop is always looking for volunteers to open and help clean. For more information, call Rhonda Smith at 504.481.3656.